Product Description
**Please note that this product is not necessarily for everybody. It requires you to take apart and re-assemble your camera which will void the manufacturer's warranty. Back-bone has no control over the end user's skill level and cannot be held responsible for accidental damage. We recommend that you view the installation video on Ribcage support page before you buy to make sure this is right for you. If you don't feel comfortable performing the installation yourself we also offer Hero4 Silver and Black cameras that have already been modified and tested. Contact us to inquire about our installation services if you already own a compatible camera.
Small Package, Big Power!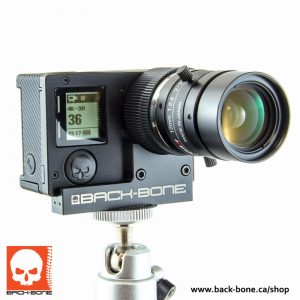 Transform the awesome GoPro Hero4 into a killer 4K interchangeable lens camera that will take all popular lens types! Designed with emphasis on widely available M12, CS-Mount and C-Mount our new Hero4 design refines that of our popular Hero3 mod to give you even more great features. All of the lens mounting rings are easily removable for filter replacement and sensor cleaning. Combine up to two custom filters in camera at the same time. You won't need filters for all your lenses, just for the camera! Now you can use ND and NDVI and other custom bandpass filters with your M12 lenses, or lenses that have no filter threads on the front. Choose from our line of tried and tested high resolution lenses, or use your own. Browse through our library of C-Mount lens adapters to find what you need!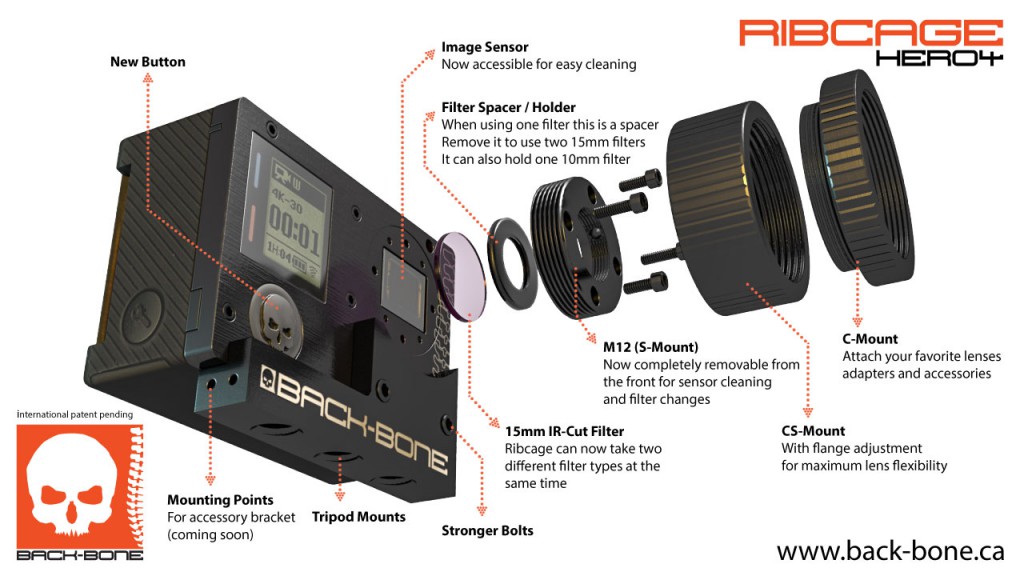 Features include:
Compatible with Hero4 Silver and Black editions
Out of the box compatibility with M12(S-Mount), CS-Mount , C-Mount lenses and accessories
Fully compatible with the Ribcage 'EXO' cage coming soon!
Easily removable mounting rings allow access to the image sensor for cleaning
Adjustable flange distance
Combine up to two different filters of two different sizes in camera at the same time
Use ND filters with most M12 lenses
Custom filters such as ND 0.3, 0.6 & 0.9, IR bandpass, NDVI and more coming soon!
The world's most versatile camera just got better.
Finally, a light weight, small form factor 4K camera with interchangeable lenses! It's the GoPro Hero4 Black that you know and love, but supercharged with Back-bone's custom all aluminum Ribcage kit. Now you have the ability to pick the perfect lens for any situation so you can shoot in amazing 4K 30fps or 1080p at speeds up to 120fps. Out of the box the Ribcage is compatible with micro M12, CS-Mount and C-Mount lenses. You can attach virtually any other type of manual lens via readily available C-Mount adapters found online and in stores. Take advantage of what professional lenses have to offer: manual focus control, a more cinematic depth of field, macro shooting, optical zoom and iris control. You'll receive a removable tripod mount so you can connect your camera to professional mounts and supports. Want night vision? Just take out the IR cut filter so you can see in the dark with any IR light source! Have a difficult lens? Use the adjustable flange distance feature to get the perfect results. The Ribcage modified camera is configured with a removable IR-cut filter for maximum versatility and easy cleaning of the filter and sensor if required. Note that the filter must be added when using the camera for the first time.
Note: Some M12 lenses require more distance from the sensor than the built-in M12 socket allows. We recommend also purchasing our optional M12 to CS adapter to guarantee compatibility with all your favorite lenses.
Be a superhero!
Package includes:
Premium CNC machined aluminum parts
2x IR-cut filter
1x Filter Spacer/holder
1x Protective cap
2x Micro Allen key for adjusting the flange distance.
1x packet of necessary screws, connectors and hardware.
1x M12 Locking ring